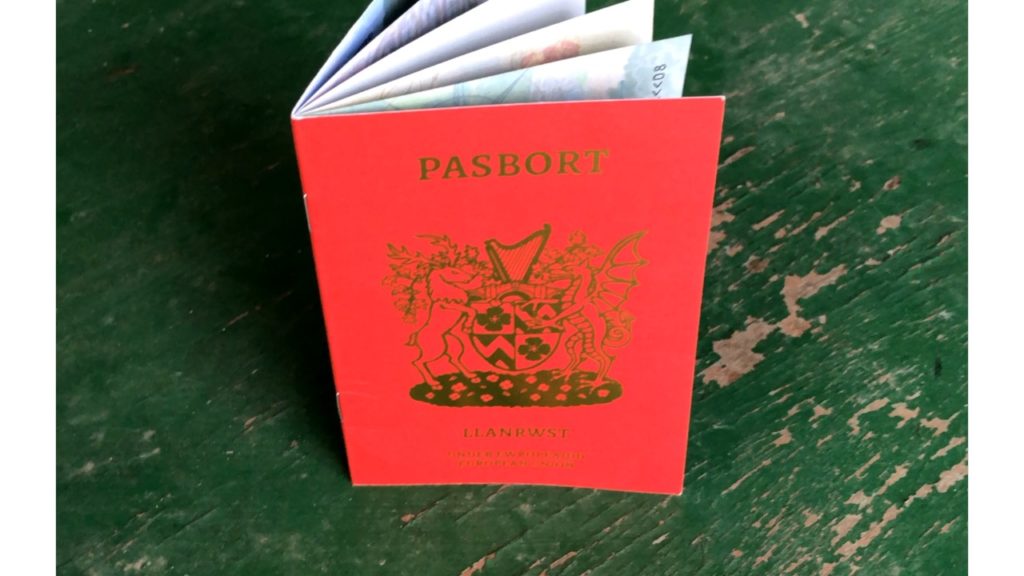 Inspired by the history of Llanrwst and its independence from England and Wales, it still sees itself as a state of its own, with a unique mindset found nowhere else. The Pasbort Llanrwst realises several centuries of ambition to make Llanrwst independent. Passport officers issued passports to all who wish to be a Rooster and validation was possible at the check points at business premises in the town.
The History
Llywelyn ap Gruffudd, Prince of Wales proclaimed independence for the town of Llanrwst in 1276 'The Free Borough of Llanrwst independent from the diocese of Llanelwy' and in 1947, Llanrwst Town Council applied to have a seat on the United Nations Council, but unfortunately were not successful.
Thanks
A special thank you to all the people and businesses in Llanrwst – nothing is possible without you.
Artwork: Chloe Augusta Needham
Additional Images: Pure Evil, Oliver Norcott
Stamp Artwork: Sophie Scharer, Chloe Augusta Needham, Dominic Chennell, Iwan Williams, Anne Lloyd Cooper, Disgyblion Ysgol Dyffryn Conwy Pupils.
Costumes: Nerys Jones
Coordinator: Katie Trent
Concept: Ffiwsar
Thanks: Golygfa Gwydir, Davies Brothers Scaffolding, CL Jones, Menter Iaith Conwy, Ian Jenkins, Cyngor Tref Llanrwst Town Council, Pwyllgor Llanast Llanrwst, Ysgol Dyffryn Conwy, Eisteddfod Genedlaethol Cymru, Natural Resources Wales.
Photos: Keith Morris, Iwan Williams